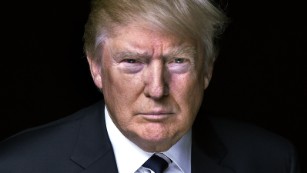 Republican President-elect Donald Trump greets people in the crowd
after delivering his acceptance speech at the New York Hilton Midtown in New York City on Nov. 9, 2016,after he vow to restore America's greatness in his speech.
The dust is starting to settle in Washington and around the country after an election that stunned political watchers and pollsters. Here is how it went down at the American polls.
During the count the polls show that Hillary Clinton surpassed Al Gore's 2000 popular vote margin. Clinton's popular-vote lead is 668,171 over President-elect Donald Trump, according to the latest totals compiled by the U.S. Election Atlas.
Gore got 547,398 more votes than George W. Bush in 2000,while The number of people electing not to vote for the Republican or Democratic nominee went up by 4.5 million votes, nearly tripling from 2012.Clinton almost tied with Obama in 2012. She won 54 percent of women's votes,and obama got 55 percent. Trump, meanwhile, garnered 42 percent of women, just two points less than Romney.
18-29-YEAR-OLDS
Young voters were the same share of the electorate (19 percent), but went in smaller margins for Clinton than Obama and they jumped in third-party support from 3 percent to 8 percent:
2012: 60-37 Obama, 3 percent third party
2016: 55-37 Clinton, 8 percent third party
BLACK VOTERS
Black voters were down as a share of the electorate slightly and went for Clinton in a smaller margin — more like 2004 numbers for John Kerry:
2012: 13% of electorate, 93-6 Obama
2016: 12% of electorate, 88-8 Clinton
POST GRADUATES
Post-graduates went by a slightly wider margin for Clinton than Obama:
2012: 18% of electorate, 55-42 Obama
2016: 18% of electorate, 58-37 Clinton
Donald Trump, in a major upset, was elected the 45th president of the United States over Hillary Clinton. He took the stage early Wednesday morning before a raucous crowd of supporters in midtown Manhattan. "I just received a call from Secretary Clinton," he said. "She congratulated us on our victory. And I congratulated her on a hard-fought campaign."
"I would like to promise and pledge to all of my voters and supporters and to all of the people of the United States that I will totally accept the results of this great and historic presidential election, if I win," Trump told supporters here in his first comments since the final debate."This is having nothing to do with me but having to do with the future of our country. We have to have fairness," he said.
Black support for Clinton, meanwhile, was 88 percent, a five-point drop from the 93 percent who went for Obama in 2012.Pennsylvania Republican chairman Rob Gleason said Trump's opposition to free-trade deals such as NAFTA struck a chord with voters in the state's struggling industrial and rural areas.
He praised Clinton for the hard work she's done for the country, and told the crowd that "we owe her a major debt of gratitude" for her service to our country.
The Polls going into Election Day had largely shown Clinton ahead by a few points, though the expectation was that the race would be tight. By early Wednesday, Trump had won 289 electoral votes and the popular vote, compared to Clinton's 218. Minnesota, Michigan and New Hampshire had not been counted yet, and Trump lost his home state of New York. After a bitterly fought election, Trump delivered a unifying message — he called on all Republicans and Democrats to "come together as one united people" and he pledged "to every citizen that I will be president for all our citizens.""The forgotten men and women of our country will be forgotten no longer," he promised.Trump pledged to fix inner cities, rebuild the nation's infrastructure, and "finally take care of great veterans."
A few days survey showed
A SurveyUSA poll released Friday shows in a hypothetical matchup with Hillary Clinton, Trump is ahead 45% to 40%.
According to the SurveyUSA poll, Trump would more than double the best result for a Republican in modern American history.
Looking at the last 10 presidential election cycles, the highest black vote share for a Republican was 12% for Bob Dole in 1996.
Against Trump Clinton carries non-whites — but by less than impressive margins. Trump's name is supposed to be mud among Hispanics, but he gets 19 percent of their votes
But digging into the racial breakdown of the respondents is revealing. For example, the poll finds 25% of black respondents say they would vote for Trump over Clinton.
On Friday, a poll of 506 Pennsylvania voters by Harper Polling showed Trump has the support of 18.46 percent of African-Americans. That's 12.5 points more than Romney's share of the national vote in 2012, and if it proves true during the ballot, that 18.46 percent African-American support translates into 2 point shift towards Trump. The poll also said another 4.6 percent were undecided.
"We're showing Donald Trump doing far better among African-Americans than any other Republican in modern memory, said John Yob, CEO of a Michigan-based polling firm, Strategic National. Trump "has done an excellent job in campaigning for the votes of African-Americans," he said, partly by campaigning in Detroit, said Yob, whose automated tracking polls show Trump and Clinton running level in the state.
Reports say the early-voting turnout by African-Americans has dropped by up to 10 percent in North Carolina and by somewhat less in Florida. President Barack Obama and other top Democrats have hopscotched through the states to push that turnout back up by election day.
Amid the disagreement, rivalries and complexity, Bradley is confident that Trump will do well among African-Americans. His final tally as the GOP candidate "will be a higher number that it has been in the past… [because] he's working, he's coming to these cities to deliver the message."
Given the growing desperation of minorities victimized by liberal policies for the last 6 decades, it can't happen soon enough.
One black voter said:
Jobs will bring prosperity back to our ghettos and barrios and will help us clean our streets. No society can survive without jobs, and Hillary does not care about that.
Guided by the belief that the Democratic Party takes the African-American vote for granted, some black Philadelphians are using the final days of the campaign to make the case for Donald Trump.
One black voter that says he switched from democrat to republican because?
In the black community where he lives almost all his life while voting democrat….
In front of a van, Carter looks around at the blighted buildings, the mattresses and smashed TV sets laying in a vacant lot – he catches a whiff of what smells like raw sewage seeping out of an abandoned building.  "There's no way you can walk through these communities and not get mad," he says. "Yes, the Republican party has failed the black community because they have given up on them. But Democrats – they failed them far worse. The blacks belong to them, but they get nothing for it. It's political slavery."

Another voter said:
I'm a Latino and I voted for Trump.
Both candidates were seen as not being honest or trustworthy by more than 6 out of 10 voters. However, among white voters, 57 percent said Trump was not honest and trustworthy while fully 59 percent said the same of Clinton. Almost 3 in 10 white voters said neither candidate was honest and trustworthy. Among this group, Trump won 52 percent to Clinton's 32 percent. 13 percent of these voters supported one of the third party candidates.
Voters in the exit polls were asked if each of the candidates was qualified to serve as president. Almost half thought Clinton was not qualified but only 5 percent of her voters thought that. Even more voters, 6 out of 10, thought Trump was not qualified to be president. Almost a quarter of Trump voters gave him their support despite saying he was not qualified.
Voters were asked how they would feel if Clinton were elected president and 53 percent said they would be concerned or scared. Similarly, if Trump were elected president, 58 percent said they would be concerned or scared. Among Clinton voters, 10 percent would be concerned or scared if Clinton were elected and 95 percent would be concerned scared about a Trump presidency. Interestingly, while 94 percent of Trump voters would be concerned or scared about Clinton being elected, 17 percent said they would be concerned about a President Trump.
Why some African Americans still vote for Hillary Clinton
Why Black Voters Support Hillary Clinton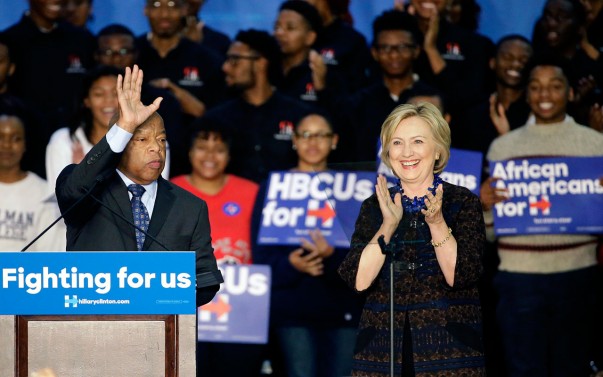 It was ethnic minority voters who powered Clinton's victories in Nevada and South Carolina – even in ultra-white Iowa, her razor-thin victory came off the backs of minority voters, who preferred her.
Fresh out of law school, Hillary went to the south to investigate racist schools resisting desegregation and young black boys being detained in adult prisons. As the first female senator from New York, Hillary fought valiantly for tougher hate crime laws and anti-discrimination legislation. While in the Senate, she worked with then-Senator Obama to raise awareness of African American women and the issues that disproportionately affect them. She fought for the issues Black families care the most about, and her record is full of the proof—not merely talking points, but actual, tangible, legislative change that changed lives and gave people hope.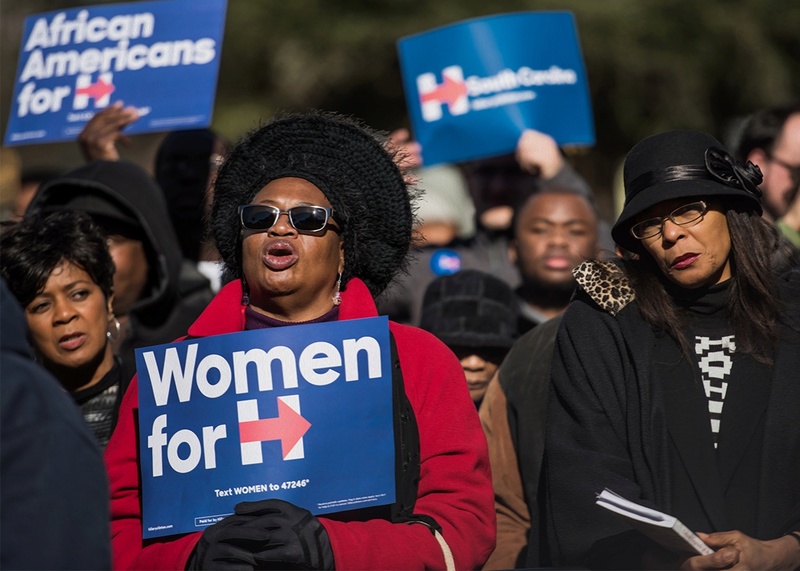 The African American community has a longstanding emotional connection to the Clintons going back a long time. Thus they recognize Hillary Clinton as a loyal friend.
While it's true that African-Americans vote overwhelmingly Democratic, identity is just one small part of the many factors playing into the choice between Clinton and
Still, Clinton has her own legacy to run on. Her campaign has been touting parts of this in recent ads — her legal aid work, for example. She also benefits from her work with another high-profile president. Voters who like and defend Obama also see Clinton as an extension of his legacy.
There are a lot of reasons for her strength with this demographic: her name recognition, her record and her politics, for example. But it's not just her; the Clintons are simply popular among African-Americans and other ethnic groups.
Hillary has a long and impressive track record for supporting children and families. From her days of lobbying and pushing for universal health care to her focus on social and economic development and empowerment, Hillary has carved out a clear history of supporting the backbone of American democracy, and focusing on strengthening families all across America. Hillary Co-founded the Arkansas Advocates for Children and Families
.
African American people have come to know her and trust her from former President Clinton's era and her own work as First Lady, Secretary of State, and within the context of the broader society. Trust is a scarce commodity among most politicians, yet Hillary has tried to maintain consistency in this area among voters and even her adversaries.
Hillary is committed to all people in the sense that "all lives matter". While she is well aware of the poison of prejudice, discrimination, and hatred, she has positioned herself as a humanitarian and "keeper of the people". Make no mistake about it, she has been very supportive and have spoken very candidly in support of the 'Black Lives Matter' movement. Hillary is not afraid of naming issues that affect black and brown people all across the nation from mass incarceration to unemployment, and makes every attempt to not just talk about it, but she believes that it is mission critical that as a nation people should roll up their sleeves and become foot-soldiers for justice.
Hillary's personal appeal to women, minorities, and other groups is worth exploring. She has continued to motivate women to hold important positions as well as encourage them to vote and fight for the things they want and deserve in life. She has served as a symbol of strength and dignity in the wake of personal struggles with Bill Clinton during his presidency and other attacks on her character as a woman and as a leader within her own personal life and political career.
Fight systemic racism in education & employment Will fight for minorities, immigrants, & women's rights Unleash the full potential of women and girls We need a New Deal for Communities of Color Create a pipeline for more women in leadership Fight systemic racism in education & employment worldwide full equal education for girls.
As for those black people who are Clinton supporters, they support her for a variety of reasons. Here are some points to consider:
Similarly, there are black people who will vote for Clinton, because she's the candidate with whom they share the most views.
Black American male: explains why he voted for Hillary
We're American voters, just like white Americans. That said, there are plenty of black people who are voting for Hillary Clinton because they believe she is the best candidate. The same reason that some white people are voting for her While some black or white vote for Trump.
African American female voter explains why she voted for Hillary
Black people are used to empty promises and a system that works against us. Black people have experience with the Clintons. Bill is often called the "first black president". So despite all the politics behind the election, black people have  associations with the Clintons. So some black  people go with who they know, rather than taking a risk on someone they don't.
Another black female voter said
Hillary has been fighting for minority rights ever since she got out of college I'm not sure if Trump will fight with us against racism we will just have to wait and see. Who knows he might be a different person from what is portrayed in the news about him. Hillary fought anti-discrimination legislation.
TRUMP: Thank you. Thank you very much, everyone.
(APPLAUSE)
Sorry to keep you waiting; complicated business; complicated.
(APPLAUSE)
Thank you very much.
(APPLAUSE)
TRUMP: I've just received a call from Secretary Clinton.
(APPLAUSE)
She congratulated us — it's about us — on our victory, and I congratulated her and her family on a very, very hard-fought campaign. I mean, she — she fought very hard.
Donald Trump Is Elected President in Stunning showdown

NOV. 9, 2016
(APPLAUSE)
Hillary has worked very long and very hard over a long period of time, and we owe her a major debt of gratitude for her service to our country.
(APPLAUSE)
I mean that very sincerely.
(APPLAUSE)
Now it's time for America to bind the wounds of division; have to get together. To all Republicans and Democrats and independents across this nation, I say it is time for us to come together as one united people.
(APPLAUSE)
It's time. I pledge to every citizen of our land that I will be president for all Americans, and this is so important to me.
(APPLAUSE)
For those who have chosen not to support me in the past, of which there were a few people. . .
(LAUGHTER)
. . . I'm reaching out to you for your guidance and your help so that we can work together and unify our great country.
(APPLAUSE)
As I've said from the beginning, ours was not a campaign, but rather an incredible and great movement made up of millions of hard-working men and women who love their country and want a better, brighter future for themselves and for their families.
(APPLAUSE)
It's a movement comprised of Americans from all races, religions, backgrounds and beliefs who want and expect our government to serve the people, and serve the people it will.
(APPLAUSE)
Working together, we will begin the urgent task of rebuilding our nation and renewing the American dream. I've spent my entire life and business looking at the untapped potential in projects and in people all over the world. That is now what I want to do for our country.
(APPLAUSE)
Tremendous potential. I've gotten to know our country so well — tremendous potential. It's going to be a beautiful thing. Every single American will have the opportunity to realize his or her fullest potential. The forgotten men and women of our country will be forgotten no longer.
(APPLAUSE)
We are going to fix our inner cities and rebuild our highways, bridges, tunnels, airports, schools, hospitals. We're going to rebuild our infrastructure, which will become, by the way, second to none. And we will put millions of our people to work as we rebuild it.
We will also finally take care of our great veterans.
(APPLAUSE)
They've been so loyal, and I've gotten to know so many over this 18-month journey. The time I've spent with them during this campaign has been among my greatest honors. Our veterans are incredible people. We will embark upon a project of national growth and renewal. I will harness the creative talents of our people and we will call upon the best and brightest to leverage their tremendous talent for the benefit of all. It's going to happen.
(APPLAUSE)
We have a great economic plan. We will double our growth and have the strongest economy anywhere in the world. At the same time, we will get along with all other nations willing to get along with us. We will be.
(APPLAUSE)
We'll have great relationships. We expect to have great, great relationships. No dream is too big, no challenge is too great.
TRUMP: Nothing we want for our future is beyond our reach.
America will no longer settle for anything less than the best.
(APPLAUSE)
We must reclaim our country's destiny and dream big and bold and daring. We have to do that. We're going to dream of things for our country and beautiful things and successful things once again.
I want to tell the world community that while we will always put America's interests first, we will deal fairly with everyone, with everyone — all people and all other nations. We will seek common ground, not hostility; partnership, not conflict.
And now I'd like to take this moment to thank some of the people who really helped me with this, what they are calling tonight, very, very historic victory.
First, I want to thank my parents, who I know are looking down on me right now.
(APPLAUSE)
Great people. I've learned so much from them. They were wonderful in every regard. I had truly great parents.
I also want to thank my sisters, Maryanne and Elizabeth, who are here with us tonight. And, where are they? They're here someplace. They're very shy, actually. And my brother Robert — my great friend. Where is Robert? Where is Robert?
(APPLAUSE)
My brother Robert. And they should all be on this stage, but that's OK. They're great. And also my late brother, Fred. Great guy. Fantastic guy.
(APPLAUSE)
Fantastic family. I was very lucky. Great brothers, sisters; great, unbelievable parents.
To Melania and Don. . .
(APPLAUSE) . . . and Ivanka. . .
(APPLAUSE)
. . . and Eric and Tiffany and Baron, I love you and I thank you, and especially for putting up with all of those hours. This was tough.
(APPLAUSE)
This was tough. This political stuff is nasty and it's tough. So I want to thank my family very much. Really fantastic. Thank you all. Thank you all.
And Lara, unbelievable job, unbelievable.
Vanessa, thank you. Thank you very much.
What a great group. You've all given me such incredible support, and I will tell you that we have a large group of people. You know, they kept saying we have a small staff. Not so small. Look at all the people that we have. Look at all of these people.
And Kellyanne and Chris and Rudy and Steve and David. We have got — we have got tremendously talented people up here. And I want to tell you, it's been — it's been very, very special. I want to give a very special thanks to our former mayor, Rudy Giuliani.
(APPLAUSE)
Unbelievable. Unbelievable. He traveled with us and he went through meetings. That Rudy never changes. Where's Rudy? Where is he? Rudy.
Governor Chris Christie, folks, was unbelievable.
(APPLAUSE)
Thank you, Chris.
The first man, first senator, first major, major politician, and let me tell you, he is highly respected in Washington because he's as smart as you get: Senator Jeff Sessions. Where is Jeff?
(APPLAUSE)
Great man.
Another great man, very tough competitor. He was not easy. He was not easy. Who is that? Is that the mayor that showed up?
(LAUGHTER)
Is that Rudy? Oh, Rudy got up here.
Another great man who has been really a friend to me. But I'll tell you, I got to know him as a competitor because he was one of the folks that was negotiating to go against those Democrats: Dr. Ben Carson. Where is Ben?
(APPLAUSE)
Where is Ben?
TRUMP: And by the way, Mike Huckabee is here someplace, and he is fantastic. Mike and his family, Sarah — thank you very much.
General Mike Flynn. Where is Mike?
(APPLAUSE)
And General Kellogg. We have over 200 generals and admirals that have endorsed our campaign. And they're special people and it's really an honor. We have 22 congressional Medal of Honor recipients. We have just tremendous people.
A very special person who believed me and, you know, I'd read reports that I wasn't getting along with him. I never had a bad second with him. He's an unbelievable star. He is. . .
(CROSSTALK)
TRUMP: That's right. How did you possibly guess? So let me tell you about Reince, and I've said this. I said, Reince — and I know it, I know. Look at all those people over there. I know it. Reince is a superstar. But I said, "They can't call you a superstar, Reince, unless we win," because you can't be called a superstar — like Secretariat — if Secretariat came in second, Secretariat would not have that big, beautiful bronze bust at the track at Belmont.
But I'll tell you, Reince is really a star. And he is the hardest-working guy. And in a certain way, I did this — Reince, come up here. Where is Reince? Get over here, Reince.
(APPLAUSE)
Boy oh boy oh boy. It's about time you did this, Reince. My God.
(APPLAUSE)
Say a few words. No, come on, say something.
RNC CHAIRMAN REINCE PRIEBUS: Ladies and gentlemen, the next president of the United States, Donald Trump.
(APPLAUSE)
Thank you. It's been an honor. God bless. Thank God.
TRUMP: Amazing guy.
Our partnership with the RNC was so important to the success and what we've done.
So I also have to say I've gotten to know some incredible people — the Secret Service people.
(APPLAUSE)
They're tough and they're smart and they're sharp, and I don't want to mess around with them, I can tell you. And when I want to go and wave to a big group of people and they rip me down and put me back down on the seat. But they are fantastic people, so I want to thank the Secret Service.
(APPLAUSE)
And law enforcement in New York City. They're here tonight.
(APPLAUSE)
These are spectacular people, sometimes underappreciated unfortunately, but we appreciate them. We know what they go through.
So, it's been what they call a historic event, but to be really historic, we have to do a great job. And I promise you that I will not let you down. We will do a great job. We will do a great job.
(APPLAUSE)
I look very much forward to being your president, and hopefully at the end of two years or three years or four years, or maybe even eight years. . .
(APPLAUSE)
. . . you will say, so many of you worked so hard for us, but you will say that — you will say that that was something that you really were very proud to do and I can. . .
(CROSSTALK)
TRUMP: Thank you very much.
And I can only say that while the campaign is over, our work on this movement is now really just beginning.
(APPLAUSE)
We're going to get to work immediately for the American people. And we're going to be doing a job that hopefully you will be so proud of your president. You'll be so proud. Again, it's my honor. It was an amazing evening. It's been an amazing two-year period. And I love this country.
(APPLAUSE) Thank you. Thank you very much.
(APPLAUSE)
Thank you to Mike Pence. Thank you.
(APPLAUSE)
Let your light shine in time with this great gift
https://fineartamerica.com/featured/victorian-art-vevine-goldson.html